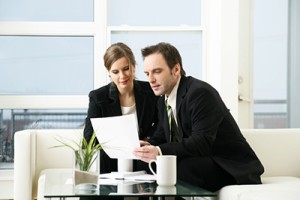 Corporate Temps is a premier provider of temporary, contract and permanent staffing solutions. We have a track record of successfully providing candidates to various corporations and government entities. Our goal is to establish a kitchen-table relationship with our employees and, in doing so, secure their loyalty, dedication and commitment. The following policies are aimed at supporting our associates through transition and subsequent retention:
First, we look for candidates who are career-oriented and goal-driven. We encourage them by providing them with a platform in which to sharpen their skill set and achieve their goals.
We recognize each person as an individual and treat him or her as a professional.
We focus on the positive, giving praise for a job well done, for contributing as a team player, and for going above and beyond standard requirements.
We maintain fair salary scales and review practices.
Incentives are provided to reward accomplished goals and excellent performance.
We offer our employees the opportunity to participate in our benefits program, which includes health insurance and a retirement program.
We promote an open communications policy, which fosters harmonious relations among employer-employee and between employee-employee.
Training, education and staff development activities are provided as an investment to the mutual benefit of the employees and the company where feasible.
Employee Handbook
Client Satisfaction
Corporate Temps successfully places candidates in local, regional and Fortune 500 companies. We are dedicated to providing quality temporary employees and excellent service. We also offer an unconditional guarantee on all of our work that we provide to all of our clients.
Benefits to Our Temps (Standard Non-Contractual)
Premium Pay
Overtime
Holiday
Vacation Pay
Merit Increases
Request Back Bonus
Periodic Reviews
Referral Bonus
How to Dress for an Interview
The first impression you make on a potential employer is the most important one. The first judgment an interviewer makes is going to be based on how you look and what you are wearing. That's why it's always important to dress professionally for a job interview, even if the work environment is casual. You'll want that first impression to be not just a good one but a great one. The candidate dressed in a suit and tie is going to make a much better impression than the candidate dressed in scruffy jeans and a t-shirt.